Erskine Falls with Hoops & Yoyo

Fantastic four at Twelve Apostles!

Two whole days of lots of driving and enjoying the changing scenery at many different spots along the way! Our trip to the Great Ocean Road gave us the opportunity to see beautiful sea views, lots and lots of cows and sheep and tall dark forests. See this for some idea of some of the places we went to:
http://www.greatoceanroad.org/index.asp
Day One: Our first stop after getting out of the city was at Torquay which is also known as Australia's surf capital. We saw the large Quiksilver, Billabong and Ripcurl shops and the shopaholic side of everyone immediately sprang out. Using taking a break as an excuse, we all stopped over at this unplanned stop and proceeded to visit all the big surf brand shops. Well, nothing was really that cheap so after a while we continued on as planned to Lorne.
On the way, we stopped at Split Point Lighthouse at Aireys Inlet to take in the nice coastal views. We then headed to Lorne which is a pretty town with lively beaches and nice shops along the main road. We had fish & chips for lunch and went to the Erskine Falls.
We chose to go to the Erksine Falls because it is touted as one of the most beautiful falls in the Otways and it did not disappoint. The falls are located in a lush cool rainforest and we had to climb down 250 steps to see the bottom of the falls and take some great pics. The waterfall is beautiful! However, the pics did not come cheap as we then had to climb back up the 250 muddy forest trail stairs to get out again...I puffed and panted most of the way up pulling my suddenly lead-like legs up the stairs.
We then tried to rush to the Otway tree top walk which was somewhere around Lavers Hill (turned out to be about 2.5 hours away) but by the time we got there at about 4.30pm, they were not letting people in as it would soon get dark. What a disappointment!! We would not have the time to go back again this round.
We went back to Apollo Bay for dinner as that was one of the larger towns near our motel (Skenes Creek Lodge motel) and then checked in at about 7.30pm. We spent the evening playing cards (our favourite past time now with Charli and Johnny) and settled down to sleep for the day at midnight. I could hear the powerful sea breeze blowing the whole night as we were facing the ocean.
Day Two: We all got up bright and early before 7am and headed towards Port Campbell to see the famed Twelve Apostles. More beautiful views and lots of photos! The winds were really cold too! We then headed to our next important destination for the day which was to see the whales hanging out at Logan's Beach in Warrnambool, another 2+ hours drive east. The bay is regular visiting spot for the Southern right whales which come to feed, give birth and nurse their calves each winter.
To my big disappointment, there were no whales to be seen after we got there and waited for a while!! Apparently a speedboat had passed by a while before we came and scared off a mother and her calf which could be seen in the area!! Bad speedboat!! Sadly we went off in search for lunch in the Warrnambool city centre.
We did think of going back to try our luck with whale spotting after lunch but got a bit lost along the way and decided to just start heading back for the long drive to Melbourne (3+ hours).
On the whole, we had a fun trip experiencing the fresh cool (sometimes cold) breezes, fabulous coastal views, seeing sheep and cows grazing (and lining up to go back to their shed in the evening!) and sometimes harrowing twisty drives. The roads in many stretches were like some advanced level of Daytona and now Darlink and Johnny who both took turns to drive can both get to say that they drove on the Great Ocean Road.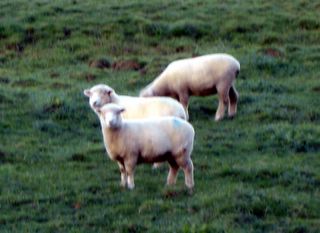 Sheep looking at us taking photos. Not many people stop just to take photos of sheep so they must have been curious at us.