We saw this beautiful Husky at Queen Victoria market on Saturday when we were doing our grocery shopping. I actually saw her the week before also but this time we found out her name is Anouk and we even got to take pictures with her! :)
Her owner must be really used to people stopping to say hi to his beautiful doggy. She is so huge but so tame. After we took photos, she was shaking paws with another guy who stopped to admire her as well. Awwww!!!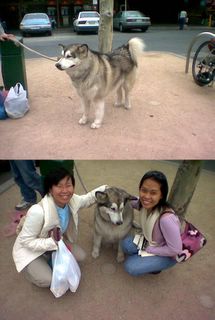 Anouk the beautiful Husky!