Somehow we mostly spend weekends in the city. Today however, we went to the market first and then went to Bridge Road (for
Macro Wholefoods
!) and Smith Street as well (we actually just went there on Monday too but Darlink was looking for tennis shoes this time). Seemed to be a fair bit of travelling around compared to the usual.
Got some nice stuff from Macro Wholefoods - notice that I generally spend more money buying food-related stuff than any other category of items these days...And I really like going here :)
Some stuff I got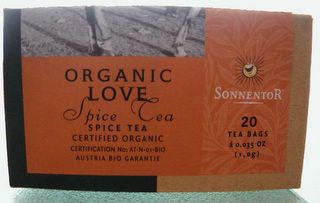 Organic love - its a tea

Couldn't help getting this when I saw the combination of herbs in this tea. I actually saw it the last time I came here and I have been thinking about it. It is made up of anise, savory, coriander, liquorice, verbena, cloves, parsley, pineapple and sunflowers. It tastes real nice with honey! And who can resist the words coriander, pineapple and sunflowers (well, not me)! Hmmm....these should be on my
Favourite Food Words
list as well.
Going to try some sprouting!

Thought I would try growing some vegetables on my own! This should be easy, they are sprouts after all and I am putting them indoors. I haven't had much luck with my plants so far...the erratic weather really does not help. They either get scorched or frozen.