Went to the Royal Melbourne show today. The weather forecast did not sound too promising in the morning but keeping our fingers crossed, we still went anyway :) Initially there were periods of rain and really cold gusty winds but eventually, some sun did come out.
We spent a total of about 6 hours there, going through all the animal displays, watching people play games (we didn't need to get any of those giant toys that you win for prizes), buying showbags, checking out the food pavillion and catching a glimpse of the diving and racing pigs. The diving and racing pigs were so cute but the area was rather crowded and the pigs went by so fast that I could hardly see much of them or catch a good picture.
All in all it was a rather fun and tiring day. We bought 3 showbags only - mostly food ones since we already got some of the novelty types from the Sydney show earlier this year. See more photos at
my Flickr
page!
Rides

Game stands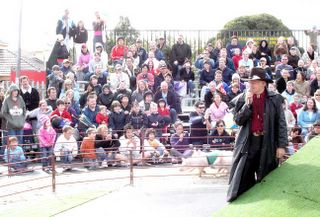 Racing pigs

Dairy cows